Horizontal exits are utilized to provide an additional number of exits/egress capacity or to serve as an accessible means of egress at upper floors in lieu of providing standby power to a passenger elevator.  Below are some design considerations that need to be accounted for when incorporating horizontal exits into a project:
Horizontal exits must provide a minimum fire rating of 2-hours, including supporting construction (2015 IBC §1026.2 & 2015 NFPA 101 §7.2.4.3.1).
In jurisdictions that adopt NFPA 101, if the 2-hour fire rated horizontal exit is not continuous vertically throughout the building (i.e. subdivides an upper floor only) the required exit stairs must all discharge directly to the exterior of the building (2015 NFPA 101 §7.2.4.3.3).
Exit signs and manual pull stations (if required) must be located at openings within horizontal exits.
The floor area on either side of the horizontal exit must be sized sufficiently to hold the occupants egressing through the horizontal exit. The area must be sized at 3 square feet per person (2015 IBC §1026.4.1 & 2015 NFPA 101 §7.2.4.2.4).
Standpipe hose connections are required at either side of the horizontal exit, unless the exception is met. The exception would not require the hose connection if the floor area adjacent to a horizontal exit is reachable from an exit stair hose connection by 100 feet of hose plus 30 feet of hose stream (2015 IBC §905.4(2)).  Note that the hose connection can be omitted from one side of the horizontal exit when the opposite side is reachable within 130 feet of the stair hose connection.  The allowance to omit on the opposite side of the wall is in line with fire fighting operations with the horizontal exit serving as a primary entrance to a fire floor.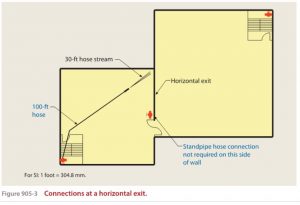 Note that the above requirements vary for Group I, Healthcare Occupancies.
Want to learn more about horizonal exits and how they can impact your project? Contact us at info@crcfire.com for more information.