Throughout October, we will be providing Insights on fire department access through a series of blog posts in celebration of Fire Prevention Week 2021. While the Massachusetts State Building Code is silent on fire department access, the Massachusetts Comprehensive Fire Safety Code (527 CMR 1.00), contains the requirements for fire department access, and is enforced by the local fire department. In this Insight, we will discuss the minimum dimensional criteria for fire department access roads.
Fire department access roads are required to have an unobstructed width of not less than 20 feet, and a vertical clearance of not less than 13 feet 6 inches. This width is required to be maintained at all times, and cannot be obstructed by parked cars, curbs, and snow piles during the winter months of New England. The vertical clearance also cannot be reduced by items such as trees, bridges, walkways, power lines, decorative catenary lighting, and building overhangs.
These requirements take into account the need for fire apparatuses to pass each other, compartment doors to open, and the additional width required for ladder trucks to deploy jacks or outriggers. Vertical clearance is needed not only for the height of the trucks, but also to allow for access of equipment that is stored on top of trucks.
Fire department access roads are also required to have a minimum inside turning radius of at least 25 feet unless otherwise required by the fire official. This generally provides adequate space for the long wheelbase of fire apparatus to make a turn. The outside turning radius is required to be at least 45 feet (25 feet for the inside turning radius and 20 feet for the access road width). Keep in mind that the fire department can require a larger turning radius.  Some fire apparatuses, particularly tower ladders, can have an outside turning radius ("wall-to-wall" turning radius) close to 50 feet – giving an overall turning circle of 100 feet or more.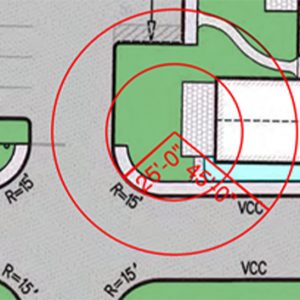 Although a fire department access road is defined as the road or other means developed to allow access and operational setup for firefighting and rescue apparatus, the fire department has been known to use any means that is necessary to get to a building during an emergency. That said, providing properly sized and capable roadways can ensure that damage to landscaping or roadways – and to fire apparatus – does not occur during an incident. This is why it is so important to understand and maintain the fire department access road requirements on any project.
Our next post will focus on the design and maintenance of fire department access roads.
If you have questions on fire department access, contact our office at info@crcfire.com
Click the links below to view the other Insights in the FD Access series:
Part 2 Roadway Materials and Maintenance