On large or relatively complex construction sites, wayfinding for first responders can be difficult and is oftentimes exacerbated by continually changing site conditions and tight neighborhoods. This concern applies to the general construction site, the interior of the building itself once vertical construction commences, or even within existing buildings as they are renovated. In the event of an emergency, first responders must be capable of properly orienting themselves in order to effectively coordinate their efforts.
While signage requirements for an occupied building are generally understood (https://coderedconsultants.com/insights/building-signage-for-emergency-responders/ ), requirements for a construction sites and buildings under construction are generally less so and are dictated by many different Authorities (Fire, Transportation, Historic, etc.).
NFPA 241, The Standard for Safeguarding Construction, Alteration, and Demolition Operations, provides some requirements related to construction signage. Section 7.5.6.5 states that "All exit stairs shall be provided with stair identification signs to include the floor level, stair designation, and exit path direction as required for provide for safe egress." Signage meeting the intent of this requirement may look as follows: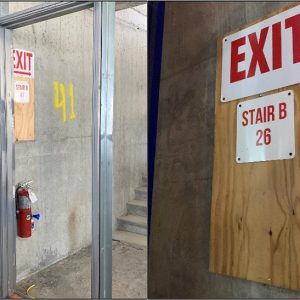 Figures 1 and 2: Examples of Stair Egress Signage
However, guidelines for general site signage are not outlined. Therefore, it is imperative that the construction team proactively collaborate with the local Authorities Having Jurisdiction in order to meet expectations in relation to construction signage. Signage may be provided to communicate the most efficient way enter the site/building, for ease of accessing fire protection equipment, or to facilitate response and operations to abutters. Examples of some signage best practices are to denote the project name, address, and gate naming convention at each site entrance, denote the location of the fire command center, provide signage at each FDC outlining what the FDC serves and the required pumping pressures, and provide signage at gates that provide access to site hydrants.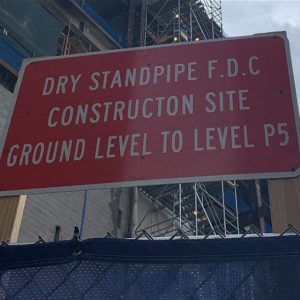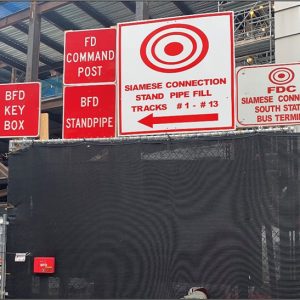 Figures 3 and 4: Examples of Site Wayfinding Signage
All signage should be mounted such that it is readily visible and legible from a distance and isn't continuously obstructed by ongoing construction operations. It is recommended to coordinate the size, content, and coloring of the signs with each of the authorities.
Providing and maintaining proper signage is an often-overlooked aspect of a construction site. However, ensuring that construction personnel and fire responders are able to properly orient themselves both inside and outside of a building under construction can go a long way in improving the overall safety of a project.