For projects in Massachusetts, interior and exterior signs identifying permanent rooms and spaces are required to comply with 521 CMR and the 2010 ADA.  521 CMR Section 41.2.2 states that the mounting height of permanent room signs is required to be 60" above the finish floor to the centerline of the sign.  Section 703.4.1 of the 2010 ADA requires tactile characters to be a minimum of 48" above the finish floor, measured from the baseline of the lowest tactile character, and 60" maximum from the finish floor, measured from the baseline of the highest tactile character.
In many cases, it is not possible to comply with both 521 CMR and ADA when mounting a sign.  In December 2021, the Massachusetts Architectural Access Board (MAAB) released an advisory opinion stating that the ADA signage mounting requirement provides equal or greater access compared to the 521 CMR requirement. Based on the advisory opinion, only the mounting height requirement of the ADA need to be considered without seeking a variance to 521 CMR.  The mounting height figure for signage as seen in chapter 703 of ADA is shown below: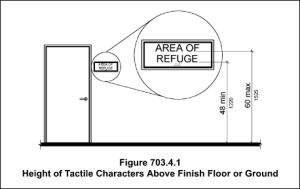 If you have any questions, please do not hesitate to contact us at info@crcfire.com.