Welcome back to our 10th Edition Major Changes blog series. In this post, we will be discussing the intricacies of Laboratory Suites.
The upcoming 10th edition of 780 CMR Massachusetts State Building Code (which will adopt and amend the 2021 International Building Code (IBC)) includes a new design option for laboratory buildings – 780 CMR §428. This design option will allow for increased chemical quantities of flammable and combustible liquids in Research & Development (R&D) laboratory buildings meeting the requirements of 780 CMR §428 as compared with the control area methodology contained in 780 CMR §414.  Quantities of nonflammable / noncombustible hazardous materials (e.g. corrosive, toxic, oxidizer, hazardous gases, etc.) are still subject to standard control area quantity limits of 780 CMR Tables 307.1 (1&2).  This code change is expected to be most impactful within high-rise buildings, allowing more permissive quantities of flammable and combustible liquids to support R&D laboratory operations in buildings up to 20 stories in height.
Laboratory suites are classified based on the quantities of flammable and combustible liquids permitted as Class A (highest), Class B, Class C, and Class D (lowest). Similar to current control area methodology, the number and types of laboratory suites permitted in a building will be regulated based on the relative distance above or below grade.  Fire-resistance-rated separations between laboratory suites will similarly vary.  This trend will be reflected in 780 CMR Table 428.6 reproduced below: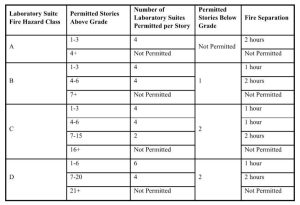 Laboratory suites complying with 780 CMR §428 are still subject to all of the standard requirements of NFPA 45 Standard for Fire Protection of Laboratories Using Chemicals (2019 edition). Additionally, the following features are required in laboratory suites using 780 CMR §428 allowances:
Where laboratory suites are utilized, the ventilation system is required to comply with Chapter 7 of NFPA 45 as well as the IMC and ASHRAE 62.1 (780 CMR §428.3.7).
Laboratory ventilation systems exhausting air from areas in which flammable gases, vapors, or particulate matter are released in laboratory suites are required to be provided with standby power (780 CMR §428.3.7.1).
Where laboratory suites are utilized and located above the sixth story or located in a story below grade, standby or emergency power is required for mechanical ventilation, treatment systems, temperature control, alarm, detection or other required electrically operated systems (780 CMR §428.3.6, §414.5.2).
Where laboratory suites are utilized, the sprinkler design is required to meet Ordinary Hazard Group 2 per NFPA 13 with quick response sprinklers, regardless of the laboratory designation, compared to Ordinary Hazard Group 1 which is permitted for certain laboratory designations under the current control area/laboratory unit approach (780 CMR §428.3.9, §903.2.11.7).
Class D laboratory suites located above Level 6 are required to be provided with 2-hour fire-resistance-rated separations (780 CMR §428.6).
It's important to highlight that the 10th edition of 780 CMR has not been finalized or adopted in Massachusetts and is potentially subject to further changes. Our current projection for the adoption of the 10th edition is Q2 of 2024 – see our prior post which outlines the overall process and timeline.
Stay connected for more Insights posts as we continue our "10th Edition Major Changes" series as part of CRC's 10th Anniversary!